PCR workstations combine HEPA-filtered air with UV light irradiation for the ultimate DNA/RNA manipulation and amplification work area. Cross-contamination during amplification of DNA and RNA can lead to results that are inaccurate, costing the lab technician valuable time and reagents. PCR workstations minimize this risk by keeping airborne contaminants away from samples and irradiating work surfaces and tools between amplifications.
Standard Features:
Microprocessor Controller
No duct installation required
UV Shelf with built-in pipettor holder
Seamless plastic design—no joints or gaps in construction
Lab event timer
Clear polycarbonate shell for 360 degree visiblity
Extremely quiet operation <49dBA
UV and fluroescent lights
Digital light timer: 1-59 minutes
Safety Features:
Automatic sash switch turns blowers off when sash is closed, maintaining an air barrier
Filter and electronics are located above the workspace, eliminating the chance of a chemical spill on these sensitive areas
Filter safety lockout to ensure correct filter replacement
Low airflow alarm warns the user both visually and audibly
Overlapping polycarbonate sash to prevent UV light exposure
Polycarbonate and polypropylene design reflects UV energy
Real time monitoring of installed filtration bed
Sash safety switch automatically turns off UV light and activates the blower when sash is raised
Shipped fully assembled
Models available with no filtration (Dead Air Boxes) or with HEPA filtration in addition to UV light irradiation.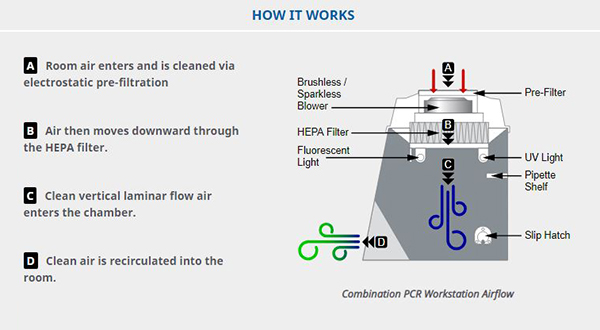 Units with HEPA filtration come complete with all filters:
32" model:
Prefilter (No. ACFPRE) 1 each
HEPA Filter (No. ACFHEPA) 1 each
48" model:
Prefilter (No. ACFPRE4) 2 each
HEPA Filter (No. ACFHEPA18) 2 each
This product may be subject to negotiated shipping charges.
You may also be interested in the following product(s)