We Deliver World Class Customer Service
We manufacture high-quality criminal investigation, tactical, surveillance, and other police-related solutions including customized special purpose vehicles. We deliver industry-leading training for public safety, medical, and education communities featuring hands-on learning techniques. Our customers make communities safer by using Sirchie solutions to respond, investigate, analyze, support, and educate.All levels of government, law enforcement, corrections, medical systems, educational institutions, security firms, corporations, and more use Sirchie solutions to help Command Every Scene®.
In April 2018, Sirchie was awarded ISO 9001:2015 Quality Certification. The company received certification from Dekra Certification, Inc. for its quality management systems (QMS) at its corporate and manufacturing headquarters in Youngsville, N.C. ISO 9001:2015 is the most updated standard of QMS and having these standards helps ensure that customers get consistent, reliable products and services and that quality and performance is constantly improved.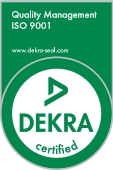 Find Sirchie on Social Media
We are on:
Locations
Sirchie's Corporate Headquarters is at 100 Hunter Place, Youngsville, NC 27596.