Benchtop CyanoSafe, 30 inch, 110V AC
Safely Processes Evidence, Protects Personnel and is Easy to Use.
The CyanoSafe™ Filtered Cyanoacrylate Fuming Chamber provides a controlled environment for the processing of latent fingerprints on most non-porous surfaces.
It uses the cyanoacrylate fuming method to safely and effectively process evidentiary while eliminating personnel exposure to hazardous cyanoacrylate fumes.
The CyanoSafe™ utilizes solid-state heating elements that accelerate cyanoacrylate polymerization while providing proper humidity levels inside the chamber. An automatic controller monitors filter conditions and allows automatic processes on latent evidence.
Simply place the cyanoacrylate into the heating tray and press "PROCESS" on the automatic controller. The chamber locks down and a humidity sensor is activated as the fuming process begins. Once the desired results are achieved, press "PURGE" to automatically removes all harmful cyanoacrylate fumes from the chamber.
Unit comes complete with Prefilter (No. ACFPRE) and Hybrid Bonded Carbon Filter (No. ACF100H).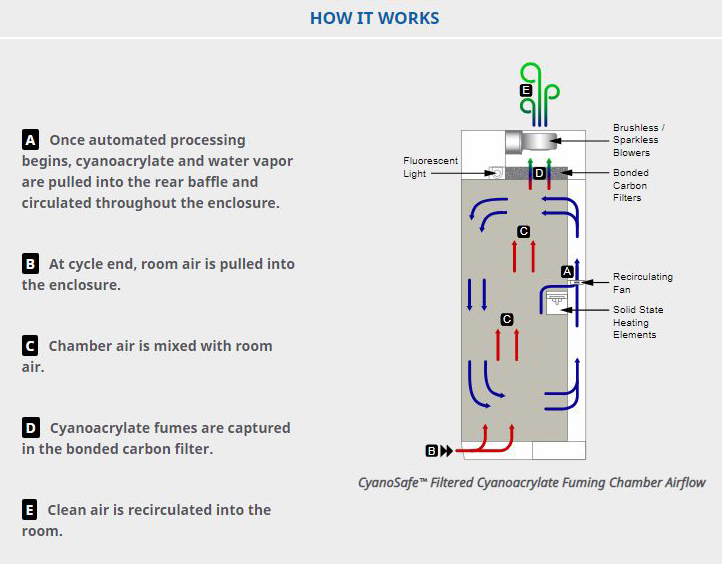 Benchtop CyanoSafe Dimensions:
| | | | |
| --- | --- | --- | --- |
| CAS30 | Width | Depth | Height |
| External | 30" | 30" | 54" |
| Internal | 29" | 25" | 36" |
| | | | |
| --- | --- | --- | --- |
| CAS48 | Width | Depth | Height |
| External | 48" | 30" | 54" |
| Internal | 47" | 25" | 36" |
The AirSafe Automatic Safety Controller features:
Timing of evidence processing cycle
Monitoring of main Carbon filter life
Controls humidity levels
User set process time up to 60 minutes
Self diagnostic ensures safe operation
One-touch control of all chamber features

CyanoSafe™ Features:
All structural polypropylene construction
Vapor-proof fluorescent light
Audible and visual alarms
Gas sensor
AirSafe automatic safety controller for system monitoring
Hanging rods and clips
Operates from a standard 110-volt or 220-volt electrical outlet
Cyanoacrylate accelerator with temperature shut-off
Brushless, sparkless motor
Clip to mount Control Strip