COVID-19 Safety while at Sirche
We're commited to providing a safe learning environment for students during these challenging times. To ensure your safety, Sirchie will conduct daily COVID screenings on each class participant, provide masks & hand sanitizer, and practice safe distancing.
This advanced course/seminar will introduce the students to the methods used by firearm and toolmark examiners in the examination of large caliber fired bullets such as .45 caliber, various rifle and various shotshell components; large caliber cartridge cases and various types of toolmarks including pry bars, screwdrivers, knives and cutting type tools.
The students will learn how examiners obtain class information that may aid investigators in searching for a firearm or tool that has been used in the commission of a crime including how a fired bullet, cartridge case or tool may be matched to a particular firearm or tool.
The course will:
Explore the reconstruction of shooting incidents, including determinations of the range, direction of fire and the identification of gunshot residues
Include many hands on exercises, including a mock crime scene and vehicle shooting reconstruction.
Curriculum
DAY 1 (Introduction to and History of Firearms)
History of firearms manufacturing
Anatomy of firearms
Firearm function and mechanism of ammunition /science
Firearm examination, functionality testing
General rifling concepts
Characteristics of fired bullets, comparison microscopy
DAY 2 (Firearms Continued / Toolmark Identification)
Review of tool mark types
Lock picking and related concepts
Bolt cutters and other entry methods
Casting and recording of tool marks
Serial number restoration
DAY 3 (Crime Scene Processing)
GSR analysis
Shotgun patterns
Handgun patterns
Shooting reconstruction methods and equipment
Courtroom testimony
DAY 4
Review of actual case studies and practical exercises
DAY 5
Shooting reconstruction of an automobile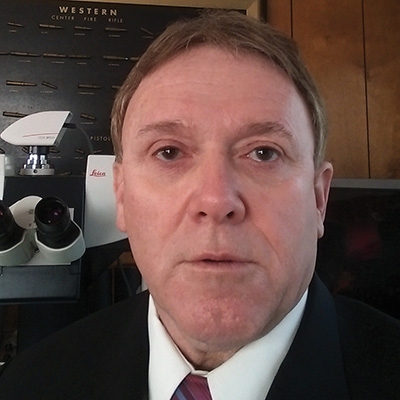 Your Instructor
Don Mikko spent most of his career as a Special Agent in the United States Army
Criminal Investigation Command (USACIDC). He has been a Forensic Firearm and
Toolmark Examiner since 1990 and spent twenty-two years at the United States
Army Crime Laboratory (USACIL). He served as the Director of the Atlanta Police
Department Crime Laboratory. He is certified by the Association of Firearm and
Toolmark Examiners (AFTE) in all three forensic disciplines, which includes firearms,
toolmarks and gunshot residue. Don has trained as well as consulted within the
discipline for over 20 years.