Sold to Law Enforcement Only!
PREMIER Crown mid-size riot body shields are fabricated from a clear, high-strength, UV-stable polycarbonate resin. The 36" high x 20" wide shields are lightweight and shatter-resistant. Visibility is undistorted. Our shields offer ideal protection from clubs and thrown objects such as bottles, bricks and rocks. The shock absorbing foam pad provides maximum protection for the user's forearm and hands. The Velcro® release nylon arm strap is fully adjustable yet secure enough to stay fastened during tactical maneuvers. Our Model 4100 utilizes a rubber-coated, steel handle. The handle and strap are designed with maximum ergonomic comfort in mind, and are positioned at a 45° angle on the Model 4100 to reduce user fatigue during extended tactical encounters.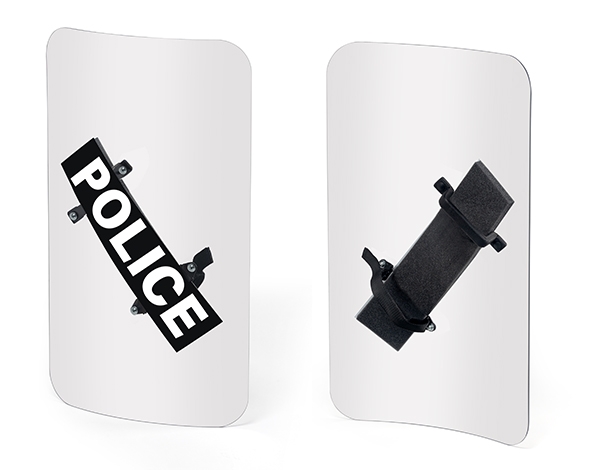 Right Handed 4100 Series Body Shields are made to be held with the left arm, leaving the wearer's right hand free for holding a baton.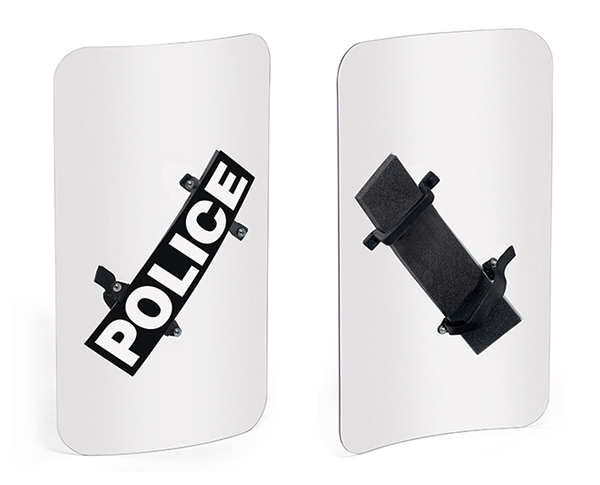 Left Handed 4100 Series Body Shields are made to be held with the right arm, and have the handle, strap and decal angled in the opposite direction.
Available decals:
Plain
POLICE
POLICIA
SHERIFF
CORRECTIONS
Custom (minimum order of 100 body shields required)
Specifications:
• Tough, injection-molded, clear polycarbonate shield is .150" thick (3.8 mm)
• UV-resistant polycarbonate allows visibility up to 88% light transmission.
• Rubber-coated steel handle
• .75" (19mm) Shock-absorbing foam pad protects user's forearm.
• 5" (12.7cm) Wide decal with white letters on black background allows easy identification of officers.
• Five standard decals available: CORRECTIONS, POLICE, POLICIA, SHERIFF, plain black.
• Custom decals available on orders greater than 100.
• Weight: 5.7 lbs. (2.6Kg) fully assembled
• Dimensions: Height: 36" Width: 20" (91.4 cm x 50.8 cm)
You may also be interested in the following product(s)