The Prima Facie® Body Camera 1080p 32 GB Memory is an exceptional solution for the collection of evidence. This versatile body camera allows the user to record video, take high resolution images, and record audio. The unit has an integrated 2" color LCD screen and speaker with a playback option so recorded video, audio, and pictures can be instantly recalled.
This camera provides a first-person point of view and was designed to help law enforcement users maintain a safe and secure chain of evidence. Recorded data can only be downloaded to an authorized computer and the internal storage prevents tampering with evidence.
The PFB1000 Prima Facie Bodycam 1080p 32GB memory includes:
Prima Facie unit with 1080p capability and 32 GB internal storage
USB Cable
Power Cable
AC Adapter
Base Station (Single)
Shoulder Clip
Clothing Clip
Features:
Touch and Go recording - hit the respective button to start video, take a picture, or start recording audio.
Pre-Event recording - video will be recorded before the Video Record button is pressed for a set time (approximately 5-10 seconds depending on resolution setting)
32 GB of internal storage built in
Ability to record in 1080, 720, or 480 HD video resolution
120 degree Field of View
Automatic IR illuminators in Night Mode
Directional Audio
Two-way microphone interface
Dust-proof and water-resistant (IP55)
Rechargable battery
External camera port
Rotating clip to attach to clothing or straps
Specifications: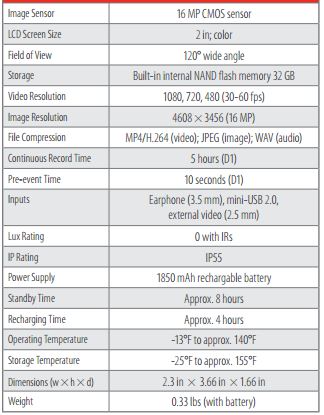 Prima Facie Body Cameras come with PrimaView™ Video Management System software. PrimaView Video Management System (VMS) uses common server/client architecture to organize all media (video recording, audio recording, pictures/images) taken on the Prima Facie body cameras that your department is using and provides secure access to authorized users in a clear and easy to use user interface.
Features for PrimaView VMS Software:
Convenient Export Options - once media has been exported from the body camera, the video, audio, and pictures are automatically organized by the PrimaView System to make it simple for you to find the important media files you need. Important video, audio, or even single still images can be quickly and easily extracted from larger, longer video files and exported to be viewed on standard PC media players
Advanced Security - individual users have secure credentials that limit access to sensitive evidence. You have the control to assign access to users. Each user can be assigned access to a single PrimaFacie camera unit, multiple units, or all units your department has with administrator level access. In addition, you can assign the same permissions for the Export feature. This gives the administrator you assign for your department full control over the exported media and who can review and work with the media.
Detailed History Reports - PrimaView records the history of each piece of media it contains, full display of who has accessed it, the actions they performed with a time stamp, and the client workstation where they performed the actions. This allows for maintenance of evidence chain of custody for the potentially valuable digital evidence. Your administrator can generate reports on individual pieces of evidence, who came into contact with it, what they did with it to give a full pictured of all activity in the system
Easy Storage Management - You can set up the storage to conform to your department's existing evidence management protocols through the application of your department specific categories and case numbers to each piece of media. Only administrator level users for your department have the ability to delete video and other media giving an additional layer to protection of chain of custody of this digital evidence.
System Requirements: