This is a complete, multi-purpose latent print development kit that includes the efficient retractable Fiberglass brush for regular powder application and the standard magnetic wand for magnetic powder application. All the components are housed in a professional carrying case with pre-formed component placement for access and efficiency. It is an excellent choice for crime scene search teams.
This kit is now housed in a sleek, lightweight, aluminum attaché that features an expandable file folder for storing reports and other documents.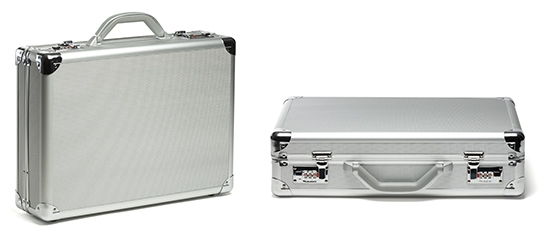 LPS100 Latent Print Search Kit includes:
1 - 101L Black Latent Powder, 2 oz.
1 - 103L White Latent Powder, 2 oz.
1 - M114L Black Magnetic Powder, 1 oz.
1 - M116L White Magnetic Powder, 1 oz.
2 - RFF200 Retractable Fiberglass Brush
1 - 125L Standard Magnetic Applicator
1 - LB0021 Backing Sheet Pad. 2.25" x 4", 50 Sheets
1 - 144L 1.5" Clear Lift Tape
6 - 130LT1 1.5" x 2" Clear Hinge Lifters
6 - 130LW1 1.5" x 2" White Hinge Lifters
6 - 130LB1 1.5" x 2" Black Hinge Lifters
1 - KCP110 5" Scissors
1 - 379M Attached Case Magnifier
1 - KCP1141 Retractable Tape Measure
1 - KCP152 Molded Polypropylene Case
1 - Aluminum attaché case