Sold to Law Enforcement Only!
Adjustable Riot and Crowd Control Suit – Adjusts to fit most sizes. Adjusts to provide the most comfortable fit.
Our revolutionary adjustable design means you can outfit and protect your entire team without the worry and hassle of sizing each individual. You can stock fewer sizes with the TacCommander and even with turnover, always have the size you need on hand. Designed with input from tactical officers to meet the needs of every officer. TacCommander gives you the protection you need, in a comfortable fit that provides the flexibility to maneuver easily.
Our Universal Size fits 95% of individuals and we also offer a Small (S) and Extra-large (XL) to ensure everyone can be protected. TacCommander is the most adjustable suit that you can buy and it provides greater coverage and superior comfort all at a competitive price.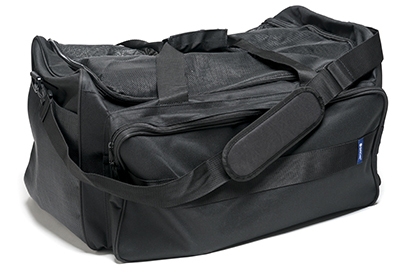 Each TacCommander suit includes a heavy-duty, vented, nylon carry bag.
Features:
Adjustability
Upper Back/Chest Torso Expansion for Width
Adjustable Velcro Straps for Width of Lower Torso, Arms, & Legs with Secure Fit
Two Piece Lower Torso, Forearm, and Shin Pads for Full Protection of Length
Adjustable Connectors between Pads on Arms & Legs for Length
Maneuverability
Overall Design Provides Protection While Allowing Athletic Movements
Two Piece Thigh Shell for Additional Lower Body Flexibility
Adjustable Connectors between Pads for Maximum Range of Motion
D-Loops for All Velcro for Quick, Easy, and Secure Connections
Protection
Full Torso Coverage with Included Front and Back Blunt Force Trauma Plates
Ability to Accommodate All Levels of 9x12 Ballistic Plates in Front & Back
Side Deflector Shields on Sides of Neck
Straps on Front & Rear with Built-In Reflectors to Quickly Remove Fallen Officers from Danger
Shelves & Notches on Thigh Plates to Rest Riot Shield On & Remain Protected
Comfort
Patented Hammock System in Knee and Elbow Pads for Comfort and Shock Absorption
Molded Foam with Air Holes for Better Circulation
Fully Adjustable from Head to Toe for maximum protection
MOLLE on 45 Degree Angle for Ergonomic, Easy Access
Convenience
Use the Incorporated Duty Belt (or Your Existing Duty Belt) for Easy Access to All Your Gear
Integrated Straps at Top of Chest for Your Duty Radio
Integrated Loops at Waistline to Hold Restraints or Gas Mask Bag
Ventilated Carry Bag that Holds Full System
Protect Everyone!
Three sizes to protect everyone. Our Universal size adjusts to fit 95% of people. The Small (S) and Extra-large (XL) cover everyone else. See the measurement ranges below to select your ideal suit size.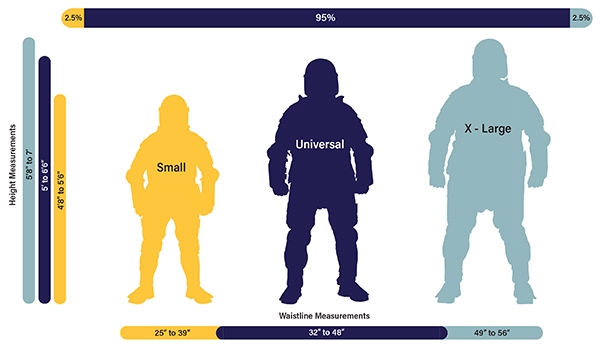 | | | |
| --- | --- | --- |
| Small | Universal | Extra-Large |
| Height: 4' 8" to 5' 6" | Height: 5' to 6' 6" | Height: 5' 8" to 7' |
| Waist: 25" to 39" | Waist: 32" to 48" | Waist: 49" to 56" |
How to Size TacCommander from Sirchie on Vimeo.
TacCommander vs. our Leading Competitor from Sirchie on Vimeo.
For sale to law enforcement only! Order above or call us at 800.356.7311 for purchasing options for multiple suits, helmets, and accessory bundles.
You may also be interested in the following product(s)