No Messy Ink with Disposa-Pad Baby Foot-printing!
Capture prints of the precious tiny feet of each newborn baby for parents to use in birth announcements and as a keepsake without messy ink. These Inkless Baby Footprint Cards are made specifically for footprinting babies in hospital maternity wards.
Use these Inkless Baby Footprint Cards with our Disposa-Pads:
Simply peel apart the Disposa-Pad, apply it to the bottom of the baby's feet, making sure to cover the whole bottom of the baby's foot with the pad surface.
Place the bottom of each foot onto the designated area of our special Baby Footprint Cards (No. 880BC).
Footprints will develop within 30 seconds—allow 5 minutes for full development.
Use a baby-wipe to clean each foot so as to not leave any solution on baby's feet.
And then give the Footprint Cards to the parents as a keepsake of their newborn's feet. Parents will be thrilled to have this unique memento of their child's birth and it will add to their patient experience with your hospital.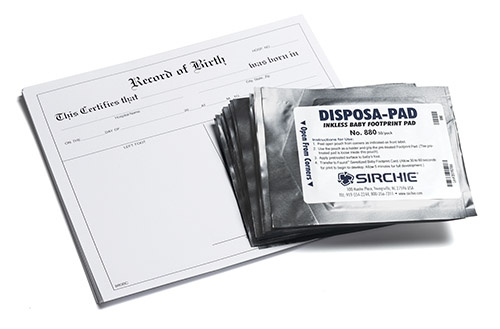 Use Baby Footprint Cards with our Disposa-Pads (No. 880)
You may also be interested in the following product(s)